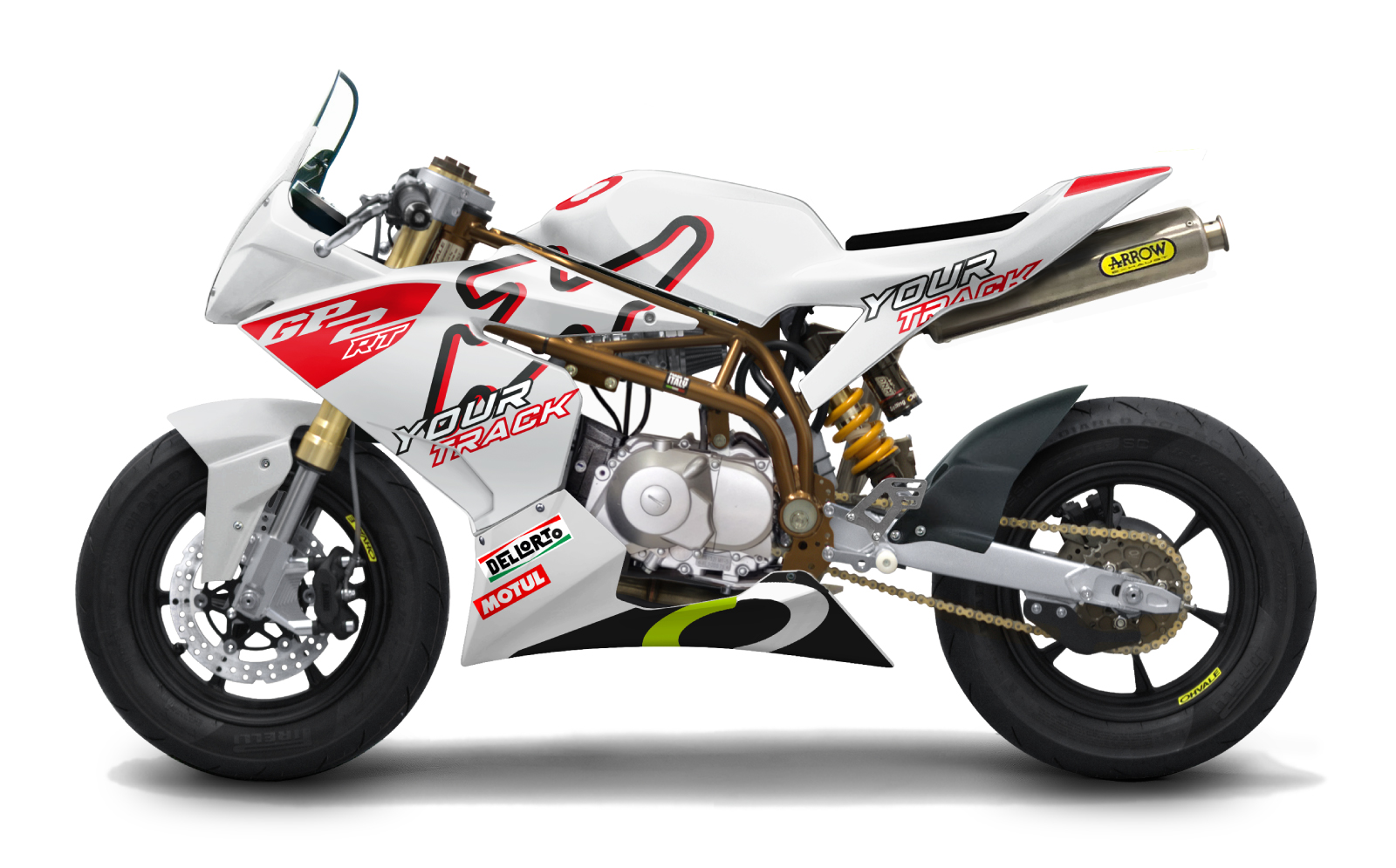 Engine: ZS 110 cc, 4 stroke
Carburetor: KF PZ19
Transmission: automatic
Exhaust: steel pipe, titanium Arrow silencer with db killer
Shock: piggy/back Ohvale setting fully adjustable K140
Fork: ø33mm upside down, CNC foot fork, setting K7/K7
Rear swing: aluminium
Footrest: adjustable
Braking system: front J.Juan brand, radial caliper 220mm disc / rear formula brand, radial caliper, 180mm disc.
Wheels: aluminum alloy wheels. Front 2,50 x 12″ – Rear 3,00 x 12″
Tyres: Pirelli slick, developed for Ohvale GP-0 10''.
Farings: heavy duty fairing produced in autoclave

Engine: ZS 160cc 4 speed,
Carburetor: Dell'Orto PHBH 28 BD (dedicated setting)
Transmission: 4 speed
Exhaust: steel pipe, titanium Arrow silencer with db killer
Shock: piggy/back, Ohvale setting fully adjustable, setting K140
Fork: ø33mm upside down, CNC foot fork, setting K7/K7
Rear swing: aluminium
Footrest: adjustable
Braking system: -front J.Juan brand, radial caliper, 220mm disc/rear J.Juan brand, floating caliper, 180mm disc.
Wheels: aluminum alloy wheels, front 2.50×10" / rear 3.00×10"
Tyres: Pirelli slick, developed for Ohvale GP-0 – 10"
Farings: heavy duty fairings produced in autoclave

Level: INTERMEDIATE
This bike is perfect for adults wanting to focus on their riding skills.
It is enough power and speed to bring a grin to your face
while being totally manageable in the GP-2 chassis.
Engine: ZS 160 cc, 4 Speed, 4 Stroke
Carburetor: Dellorto PHBH 28 BD (dedicated setting)
Transmission: ratio 36/16, Regina Chain Gold Series
Exhaust: steel pipe, titanium Arrow silencer, ready for db killer
Shock: piggy/back, Ohvale setting fully adjustable, setting K140
Fork: Upside down fork fully adjustable
Rear swing: aluminium
Footrest: adjustable
Braking system: -front J.JUAN monoblock radial caliper 4xø25.
-rear J.JUAN brand, radial caliper 1xø25
Wheels: Ohvale design front 2.50×10" / rear 3.00×10"
Tyres: Pirelli slick 12"
Farings: Fiberglass

Level: ADVANCED
Top level of Ohvale's product range, Ohvale GP-2 190
is the perfect motorcycle for young riders in their growing path
and for adults wanting to improve they riding skills.
The best motorcycle for training of professional riders.
Ohvale GP-2 190 is the motorcycle chosen by FIM and DORNA
for the growth path of the FIM MINIGP WORLD SERIES project.
Engine: Daytona 190cc 4 marce, 4T
Carburetor: Dellorto PHBH 28 BD (dedicated setting)
Transmission: ratio 36/17, Regina Chain Gold Series
Exhaust: steel pipe, titanium Arrow silencer, ready for db killer
Shock: piggy/back, Ohvale setting fully adjustable, setting K140
Fork: ø33mm upside down, CNC foot fork / Upgrade fork fully adjustable
Rear swing: aluminium
Footrest: adjustable
Braking system: -front BREMBO, monoblock radial caliper 4xø24.
-rear J.JUAN brand, radial caliper 1xø25
Wheels: Ohvale design front 2.50×10" / rear 3.00×10"
Tyres: Pirelli slick 12"
Farings: Fiberglass